A perfect wedding ceremony in Tuscany is a dream that can come easily true if you hire the right professionals. So, today, I am sharing with you some beautiful images from one of the ceremony I had the privilege to officiate as a Celebrant for My Wedding in Italy because I would like to give you some quick tips on how to make your Special Day a unique and unforgettable experience for you and your beloved ones.
First Look. Does it really spoil the ceremony? This is a very good question many couples ask. And my answer is: Definitely NOT!
But let's start with the definition of this hot topic. A first look is when the bride and groom see each other for the first time on their wedding day BEFORE the ceremony.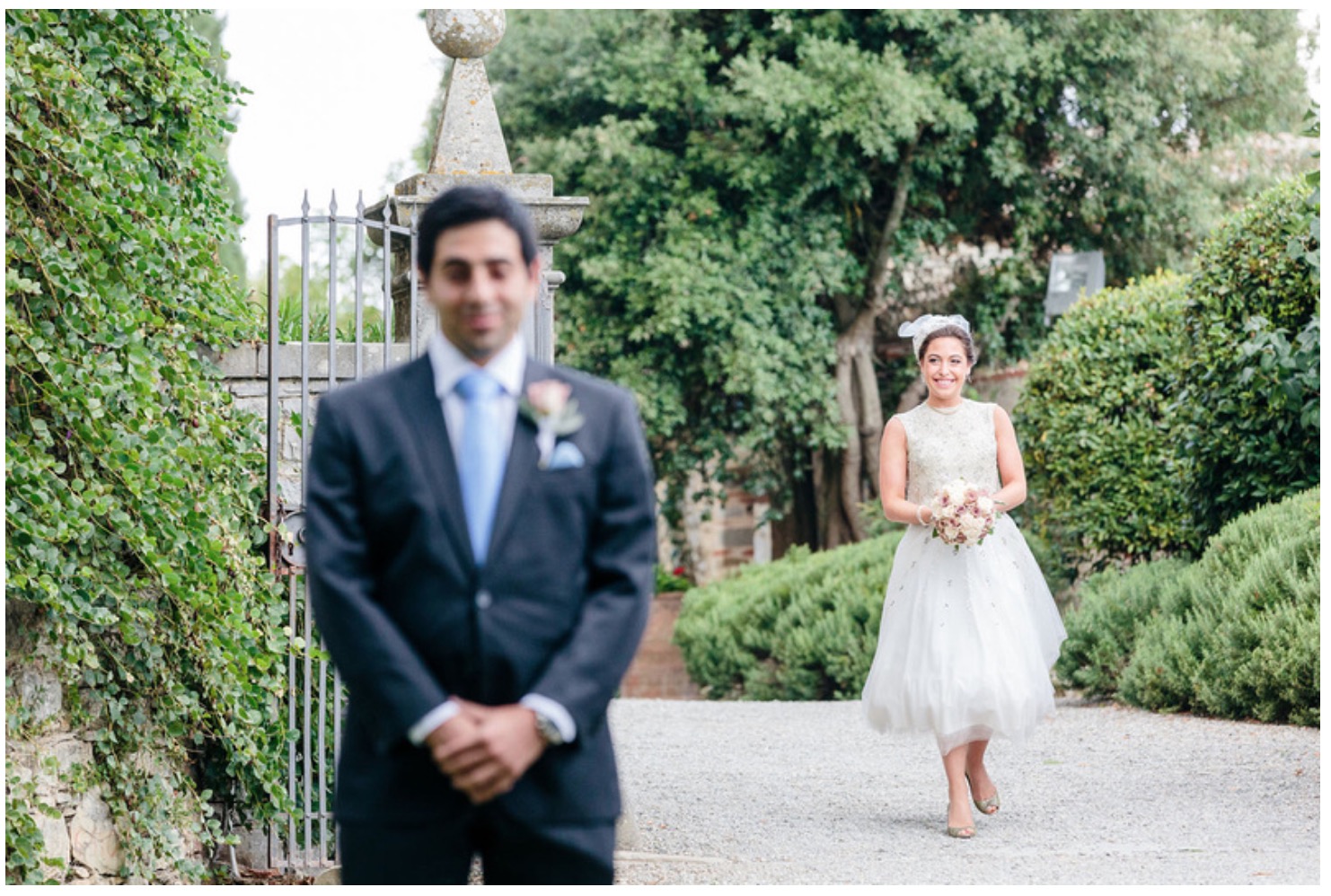 According to most of my couples, this is a very private moment to connect with one another just before your family and friends surround you; and it can be highly emotional as there isn't the pressure and anxiety of tens of eyes watching you. On top of that, you will be able to walk down the aisle together, which is super nice for photos, isn't it?
Practically, it enables you to have a relaxed couple session before the ceremony, so you won't have to leave your guests during the cocktail hour.
Of course, it has to be planned properly. My advice is to take at least 30 mins: while the first look will only take 5 minutes, the rest of the time will be spent on few portraits of the two of you.
A very sophisticated means of transportation for the bride and groom is a horse-drawn carriage driven by liveried coachmen, which looks particularly great in photos and grants you a grand entrance to leave open-mouthed all your guests.
Carriages can also be used to drive the elderly guests to the ceremony spot, especially if it is located on top of a hill, as it's the case of Castello di Meleto, where this perfect wedding ceremony in Tuscany took place.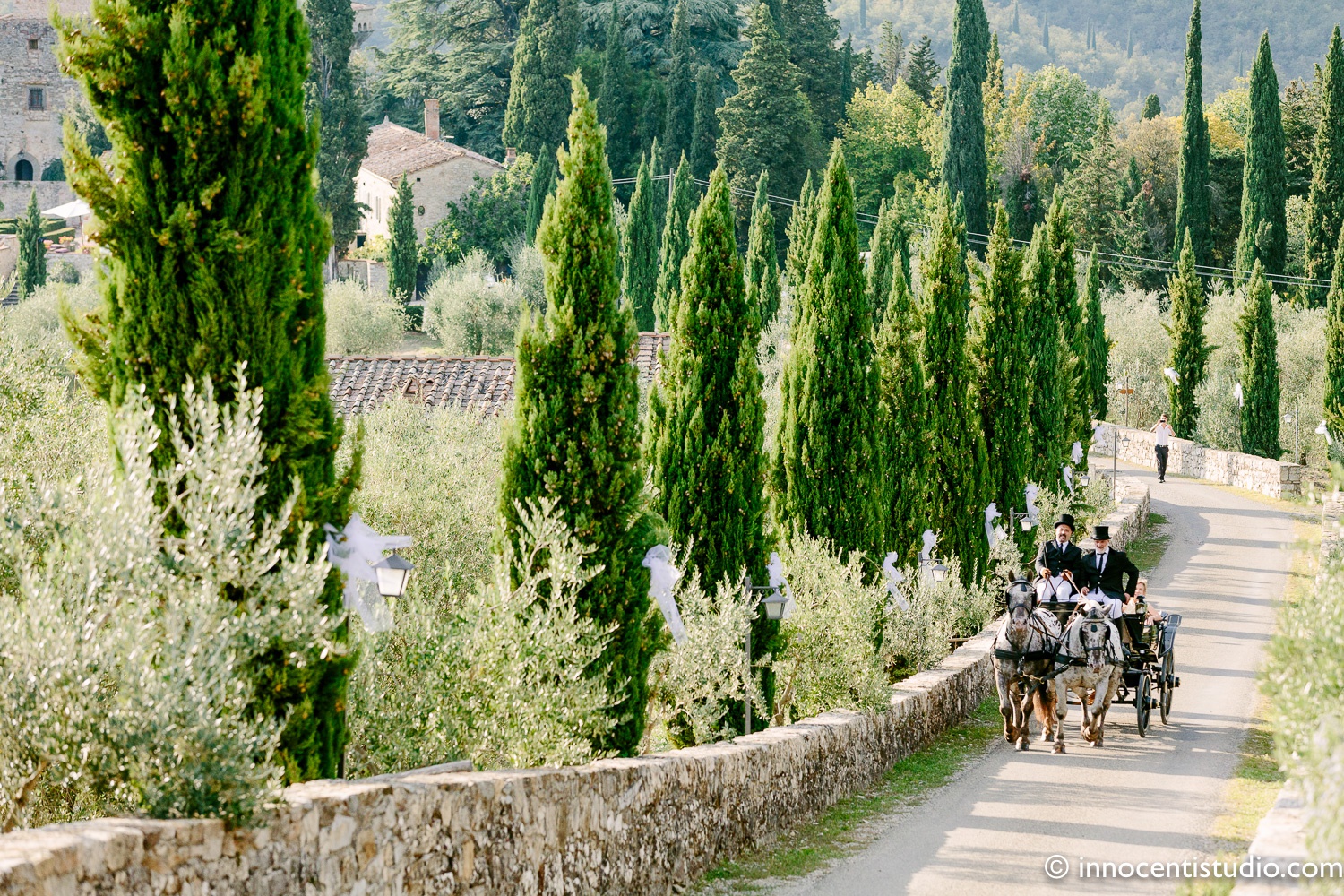 Time of the ceremony: you probably want your wedding day to last as long as possible, we all know that! What you should consider though is that the photos your photographer is going to take of every single moment will be the only long lasting memory of all, so choosing the right time and light is a MUST!
A rule of thumb is to choose your ceremony start time based on the sunset time, as the most romantic photos are taken during the golden and the blue hours, which are specifically around 30 mins before sunset and few mins after it. So, if the sunset on your wedding day is at 6.30 pm, a ceremony at 5pm is a great option, as you will have 30 mins for the ceremony, 10-15 mins to chill out with your guests and take some refreshment, and then a whole hour for the coolest couple portraits.
Wedding Venue: this is a super hot topic for 99% of the couples who choose Tuscany for their destination wedding in Italy. Either you are looking for an ancient castle, a noble Medicean villa, a rustic country house, or a luxury hotel, Tuscany has them all. So, it's up to you!
My advice is to think about the reason why you took the decision to get married here and not in your country. From my experience, couples choose Tuscany because they are fond of the typical landscapes like rolling hills, olive groves and vineyards that are well known all round the world. Another reason is the love for Tuscan food and wine, which guarantee an authentic and genuine experience, unique as every wedding should be.
And last but not least is the long tradition of a region which gave birth to many of the most famous artists in Italy. Tuscan venues are wonderful. Their views are breathtaking. And Nature is always a background to die for! So, you only need to close your eyes, visualize your ideal wedding dream, and make it true!
Al fresco dinner: after a perfect wedding ceremony in Tuscany, an al fresco dinner is the ideal way to start your reception!
Many couples ask me when is the best period to have dinner outside in Italy. Well, it is a tough question to answer, as it mainly depends on the temperatures you are used to. Our spring is warm during the day, but it can be quite cold at night.
Usually, dinner outside is suggested from the very end of May until mid October, unless you opt for renting some heaters (which, unfortunately, come out quite ugly in photos) OR provide your guests some nice blankets. Anyway, I am very fond of al fresco weddings as they are warm and welcoming, inspired by family style events. Remember to plan some extra lights for your reception tables, as candles are only a decorative element and alone they never provide enough light. You can hang chandeliers, string Edison bulbs or set up fairy lights on the dinner area.
If you feel a little overwhelmed with difficult decisions, you don't need to worry. A good light designer will help you choose the best solution for you!